2013-04-11 by Big J
Good strong heartfelt a cappella over Hudson Mohawke's "Higher Ground". What's not to like?
Play loud and get angry as nothing they're angry about has improved since they released it in 99.
Download MP3 (3:10min / 6MB)
2012-03-21 by The Mighty Alboy
LCD Soundsystem- "I Can Change" (London Session)
Thought this was from 2011, but dammit, it was released in Nov 2010.
This is just a great tune- James Murphy's lyrics are splendid, and musically it's highly reminiscent of Orchestral Manoeuvres in the Dark (who are still going, can you believe?). This from the London Sessions recordings, which are particularly fine- found it hard to choose between this and all my friends.
2011 was a poignant year for LCD Soundsystem. Frontman James Murphy had turned 40, and he had previously said "I'll just do this until I'm 40, and then I'll do something else" which he duly did- so 2011 saw LCD play their last gig- at Madison Square Garden NYC. The place was packed out, and a friend of mine told me he left at the end of the set to beat the rush. This was after the first hour or so- only to find out on the way home that the show had gone on for another two hours. Strictly no re-admissions, unfortunately…
Here's a live performance of this tune on Jools Holland
Download MP3 (0:00min / 0MB)
2011-08-31 by The Mighty Alboy
Instra:mental – "Voyeur"
Been out a while but only just crossed my ears- and shortly after my turntables. This is an understated, sinister, belter of a tune.
The duo behind it- Alex Green and Damon Kirkham- have been producing quality electronic music for a good long while now, and have a bunch of strings to their musical bows, releasing electro, acid, dnb and non-classifiable things that get filed under "post dubstep" (whatever that is) going by a variety of pseudonyms and project names, including Boddika (Al Green), Jon Convex (D Kirkham).
It's all well worth checking out, but this tune stands out cos it's so thoroughly moody and not a little creepy.
Download MP3 (0:00min / 0MB)
2011-02-11 by The Mighty Alboy
little dragon- "blinking pigs"
Lovely little tune here, from Swedish outfit little dragon.
This quote from their website bio captures the effect- to begin with it sounds quite lame and twee, but as it goes on, it grows on you until you realise it's really quite good:
"From the city of Gothenburg grew the birth of tiny creature- its breath full of fire, passion, death and dreams.
It lived in a fantasy called the electric forest.
This forest was thick with rustling secrets and infinite amounts of pine trees.
On occasional full moons the pine trees would light up in neon auras of lime and turquoise and the ground would shake with a steady rumble.
The tiny creature grew into a little dragon.  
It wrestled with the large wind sometimes. The heat of its breath would weave in with the cool air and make patterns in the sky.
Although the creature was a powerful little beast, it was light as a feather and would often sleep on the leaf flowing in the breeze.
And there it would dream in a dream.
These dreams were without visuals and haunted by sounds. Electric sounds and beats would pump her little heart and make her sleep walk around the forest like a ghost dancing in the night.
And the aching of this lonely creature's heart would be reflected in bittersweet melodies, both haunting and happy."  
Or not…!
There are a few other fine numbers on themachine dreams album- twice, feather and never never in particular- well worth checking it out.
Download MP3 (0:00min / 0MB)
2010-06-05 by T Pot
ez folks, here is a track lurking on my HD. Quite an odd tune…. the vocal was taken from an xbox360 game. I ran the mix through a decent multi-band compressor afterwards.
Download MP3 (4:37min / 9MB)
2010-05-21 by The Mighty Alboy
Soul Clap remix- "Al Naafiysh (The Soul)"
One for all the original B-Boys and B-Girls in the virtual house
We had Hashim's 1983 original here way back in Jan 2006- this is fresh for 2010, a new-funk rework with live instrumentation and scratching, courtesy of Berlin's Soul Clap crew.
Like the El Michels Affair Wu-Tang re-works, am loving this rejuvenation of classic, digitally sequenced tracks through good old fashioned analogue musicianship.
Here's the original video on youtube, from 1983 "when fresh was the style plus the word to say":
Download MP3 (0:00min / 0MB)
2009-10-10 by The Mighty Alboy
sbtrkt- "Timeless"
A cheeky little lift off mad decent- and a tidy reworking of Goldie's Inner City Life by up and coming local producer subtract one- or sbtrkt for short.
Keeping the soaring strings and ominous bass of the original, and adding a few more deft atmospheric touches here and there, and replacing the rolling breaks with glitchy beats, bringing the mid-nineties sound into the late noughties.
Anecdotally, Goldie doesnt take too kindly to people ripping his shit (apparently punching out the last producer who tried) but this has reminded me of how fine timeless is as an album, and made me hunt down the red version, which I love but never had, so it's swings and roundabouts Goldie, mate!
even if you do get your copyright violated, bootlegging and blogging is good for business
Of course, we're bound to say that :)
Download MP3 (0:00min / 0MB)
2009-09-27 by The Mighty Alboy
Autechre- "Eutow"

I dont actually know what kit was used to create this track, but I do know that Autechre know how to use whatever kit they've got to produce dense and satisfying soundscapes better than most.
This track is off their third album- Tri Repetae. Apparently, their track names arent intended to mean much of anything, but I like the name of this one because it sounds like "U2", pronounced with a brummy accent.
No resemblance to the paunchy celtic rockers in the sound, glad to say. Numan-esque spacey-synth introduction, huge swooping and soaring pitch-bent synth lines, breaking out into tight, clicky, driving percussion. It's an awesome track.
Download MP3 (0:00min / 0MB)
2009-04-21 by P Rice
Underground Resistance – The Final Frontier
Not suprisingly, this is not the first time we've heard from UR here on DC, what with most of us being long time Detroit fans. I'm pretty sure the Double K posted Journey of the Dragons some time ago, which is one of the finest pieces of electronic music ever produced imho.
I've known this tune for a long time, but for some reason did not know that it was a UR tune until recently. It made perfect sense when I found out as it has UR written all over it really. A dark brooding monster of a tune but, as you'd expect of a classic Detroit tune, heavily soulful , it hails from way back in 1991, which was the year I first discovered raving. My early rave experiences featured white gloves, whistles, vix vapo rub (which stung the eyes when it mingled with sweat and ran down into them) and lots of hardcore. This tune has worn better than most and is up there with UR's finest finest moments.
Download MP3 (0:00min / 0MB)
2009-02-27 by P Rice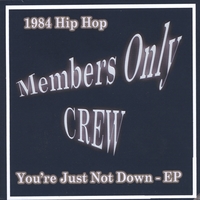 Members Only Crew – Rock Your Body
I'm quite excited about this one. I heard it on a mix recently then got some very expert help in tracking it down.
Its taken from an EP that was released back in 1984 by the Members Only Crew, a Bay Area outfit who were putting out solid Hip Hop in the very early days. The EP 'You're Just Not Down' is as rare as the proverbial rocking horse shit, but is an essential early Hip Hop release, and can be bought on CD for a lot less than the fortune that it costs on vinyl.
Download MP3 (0:00min / 0MB)